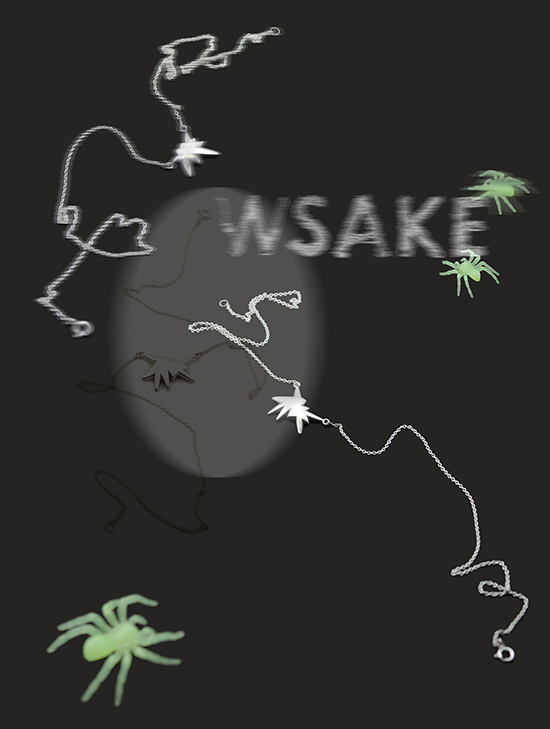 Boo!
Here come some really scary pieces straight from our workbench to your virtual postbox. You almost can´t see them because they move as fast as those blurry

TRUE BLOOD

vampires, so it was really hard to snap pictures of them - a big thank you to

MIRIAM KÖNIG

for daring to have her picture taken wearing them.
Enjoy a tiny bit of spooky entertainment!
BIG SILVER SLIME STAR NECKLACE

- gross but pretty.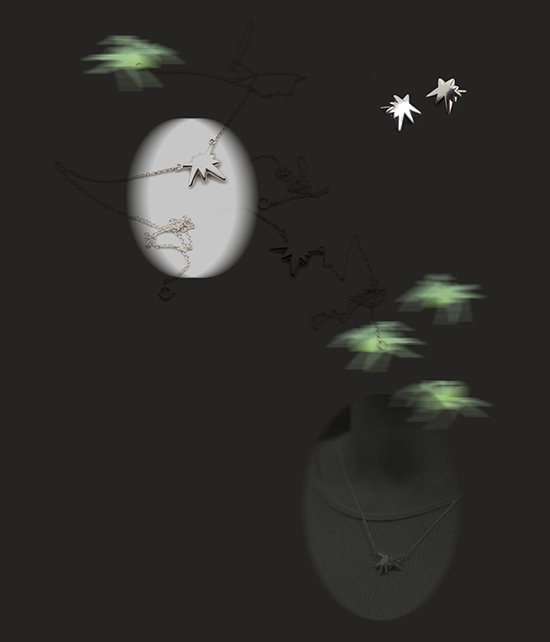 All the slimey stars in one place: SMALL SLIME STAR NECKLACE, SLIME STAR EAR STUDS + BIG SLIME STAR NECKLACE. / Doesn´t get more autumnal than this: ROSEMARY BROWN BUTTER APPLE CAKE (you can basically substitute EVERYTHING, or you could also go down the PEAR route.) / A seamingly very lazy MUSHROOM PASTA, WHOLE WHEAT CHOCOLATE OAT COOKIES, GRAPE AND FENNEL SEED SCHIACCIATA by Ottolenghi + the APRON from our most favorite show THE BEAR to wear while cooking it all + some inspirations for COMMENTS to leave on various cooking sites after you have worked your way through these recipes.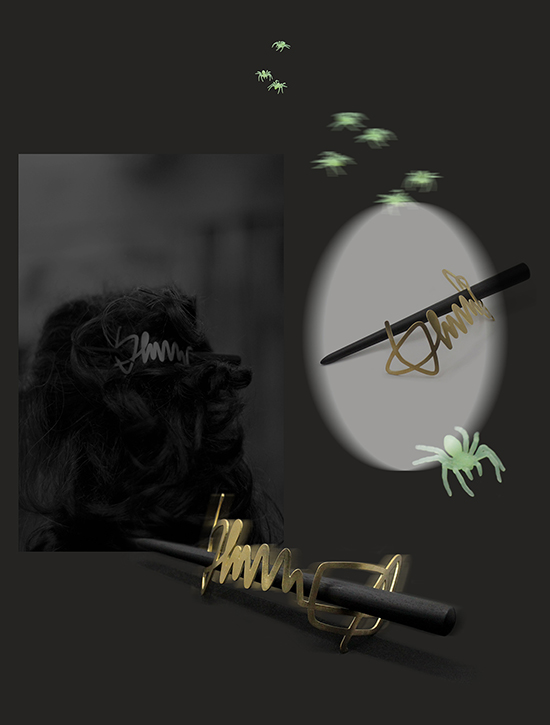 Spooky KRITZIKRATZI for your hair - brass clasp and ebony pin to hold your locks or strands up. / A few things that might give you some pleasant creeps: A GHOST KITTY tutorial! / A SCARY HORSE PRINT! / The CHOCOLATE ROOM! / CORN, MISO & MASCARPONE! / It´s the perfect time to rewatch THE PALE BLUE EYE! / A short story to remember how awful being a teenager can be: THE ICE QUEEN! / RED TIGHTS! I want in on the trend - which ones do you recommend (that however might be too much RED)?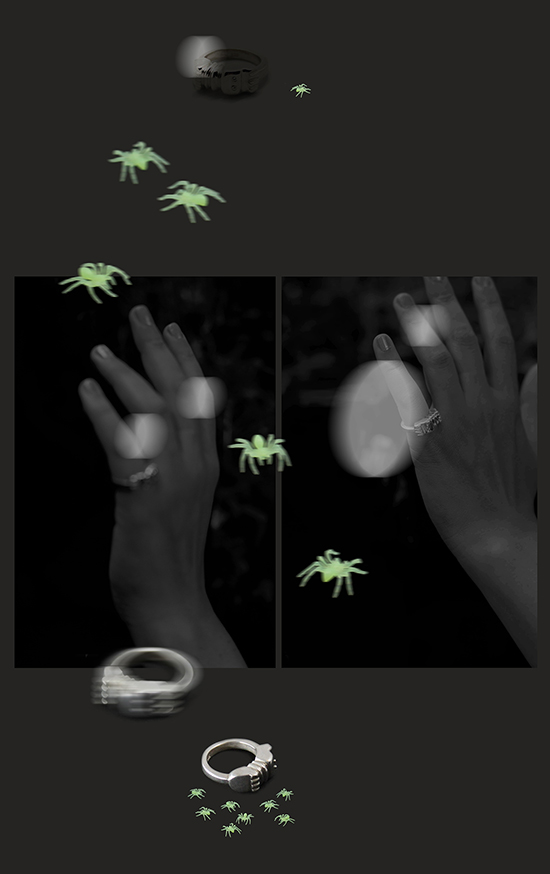 This one will never turn into a butterfly: CATERPILLAR RING - available in solid silver or gold plated brass. / I seem to be oddly fascinated by this WEDDING look, the cakes and the inspirations for it - it´s almost eerie and therefore quite fitting for this newsletter´s theme. / The GHOST INFLUENCER of the season. / Jenny Odell´s 13 WAYS OF LOOKING - on collage and the practice of searching, finding, and filing. / TRUE DETECTIVE, an investigation by Olivia Laing: "The green velvet sofa was the slumped center of those stopped clock years. Eight o'clock, dinner eaten, the TV wheeled from its cupboard."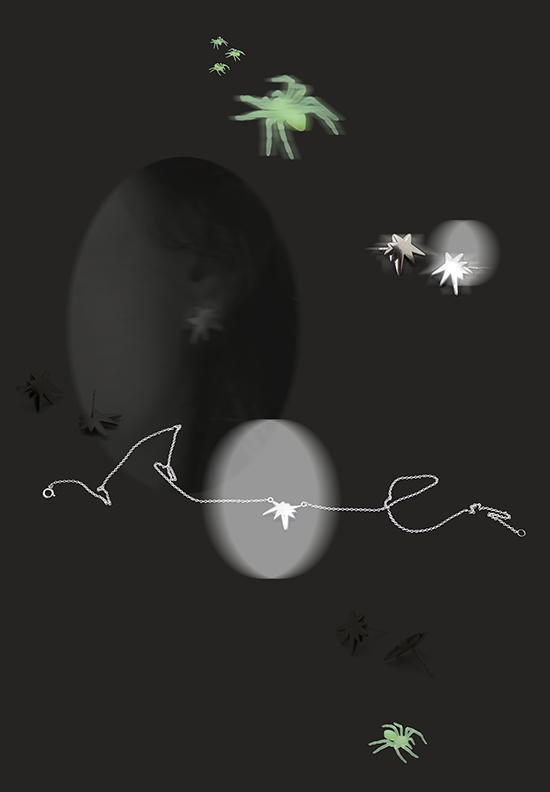 SMALL SLIME STAR NECKLACE + SLIME STAR EAR STUDS - both started out as wax carvings that then got cast in silver. / BEACH CATS & LILACS - Elizabeth Barker´s writing always gives me major WEETZIE BAT vibes. / Two books I´d like to read this season: THE VASTER WILDS by Lauren Groff: "Her hands are bloody, her heart is righteous and her head is full of scripture." + BIRNAM WOODS by Eleanor Catton on the sole reason I loved THE LUMINARIES so much. / "ISABEL didn't scream or scurry, she showed no rage and she showed no rancor, but she turned the witch into milk and drank her."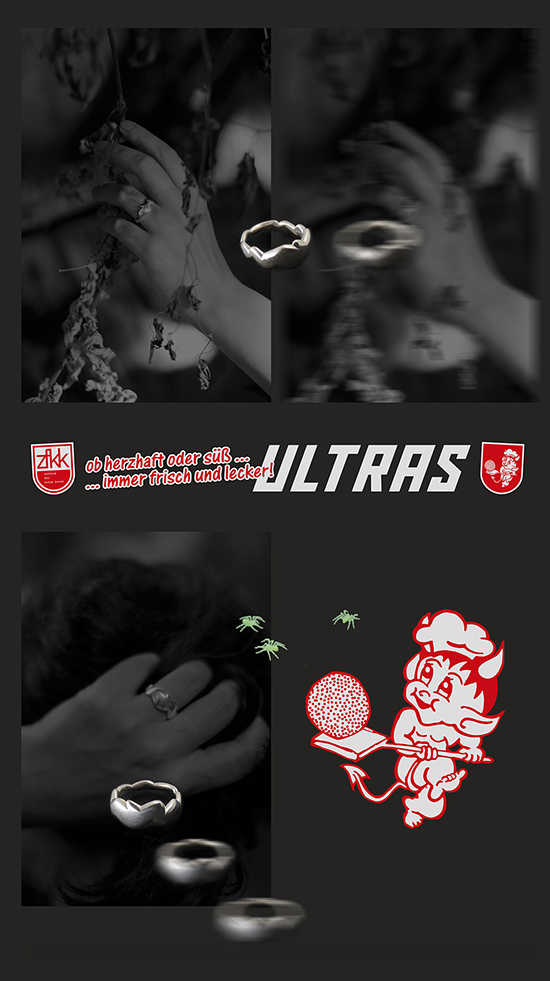 Solid silver O.T. RING in the wild. / Calling all zfkk Ultras - 18.11., 16 Uhr, Ostengasse 21: Ein kleiner Kunstort in Regensburg zieht große Kreise - anfangs von nur drei Personen bespielt, entwickelte er sich innerhalb von nur drei Jahren zu einem enorm aktiven kurzen Kunstzentrum und das alles Dank seiner rasant anwachsenden Fangemeinde: Die zfkk Ultras machen das ZFKK weit über die Ostengasse hinaus bekannt - es geht rund wie ein Quarkbällchen. Nun ist es an der Zeit die Fans selbst in den Mittelpunkt zu stellen, indem sich ein Beispiel an der wohl größten existierenden und im Stadtbild allgegenwärtigen Fangemeinde Regensburgs - den Jahn Ultras - genommen wird: eine quarkballsüße Hommage an ein Stück Fussballkultur der Stadt und gleichzeitig die Sichtbarmachung der steilen Erfolgs(fan)kurve des zfkk: Hallo zfkk Ultras! Join the fun and get FREE MERCH!





Boo! - again,



ANNA & WALDEMAR ARTMANN - WSAKE