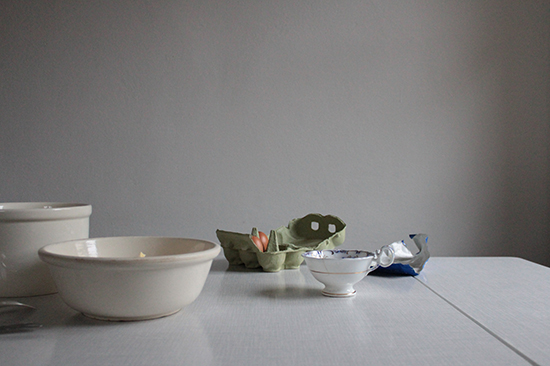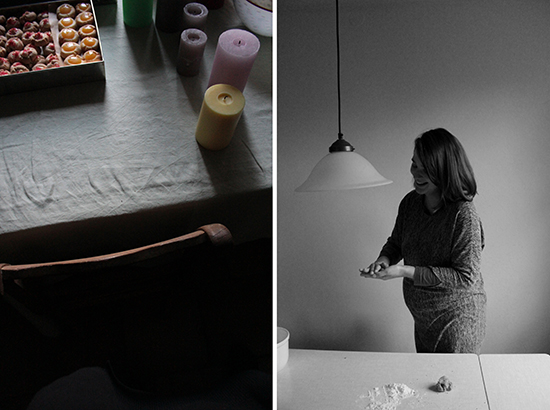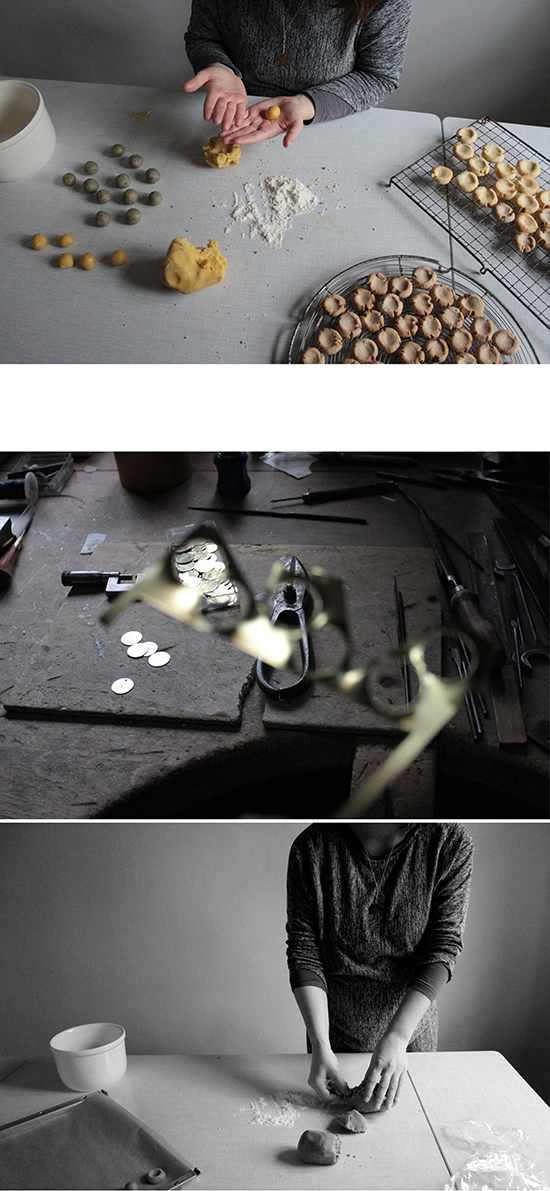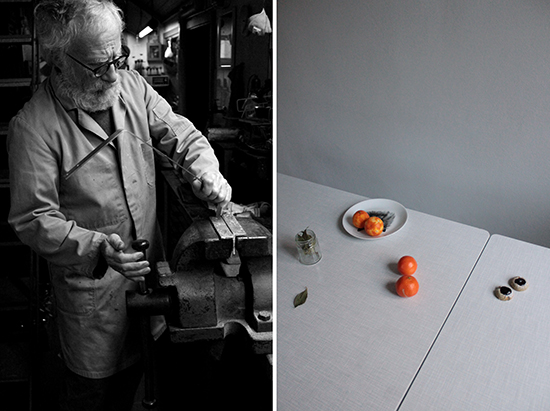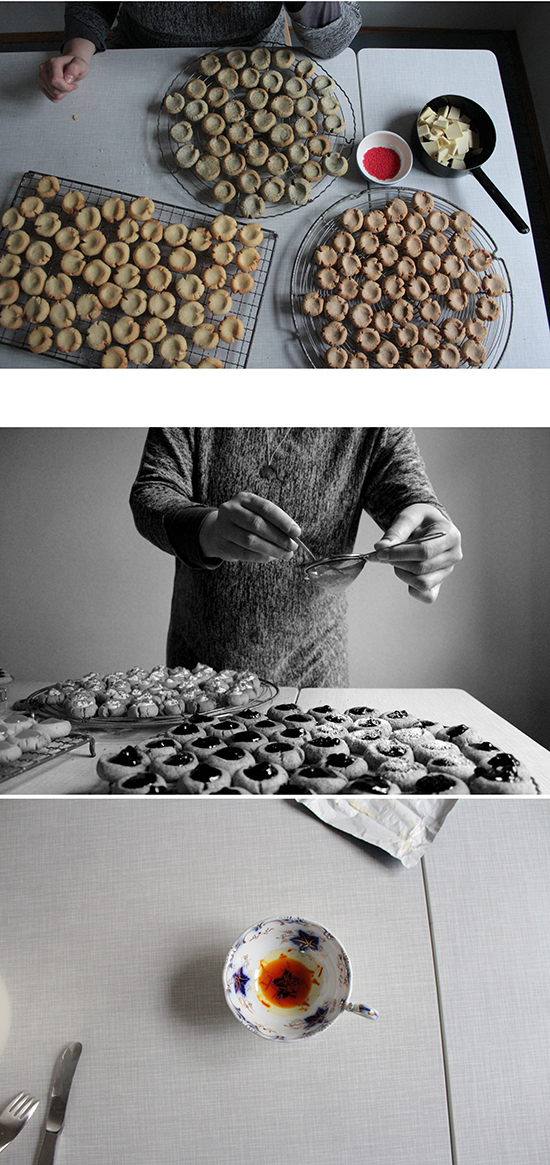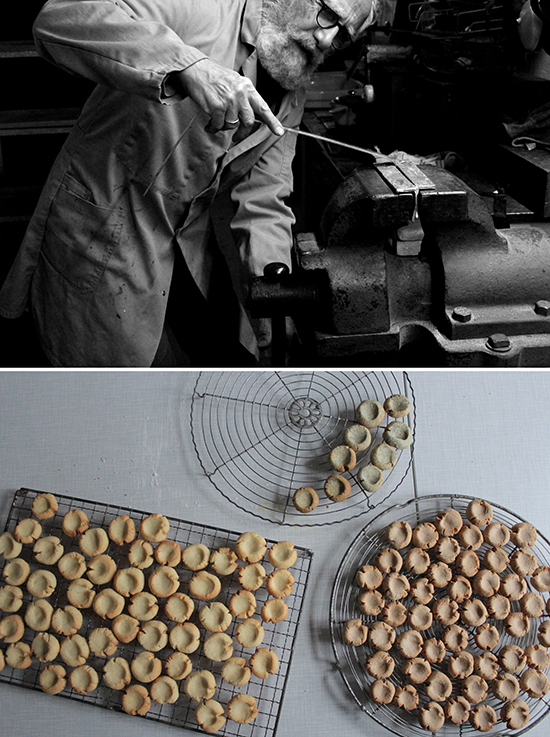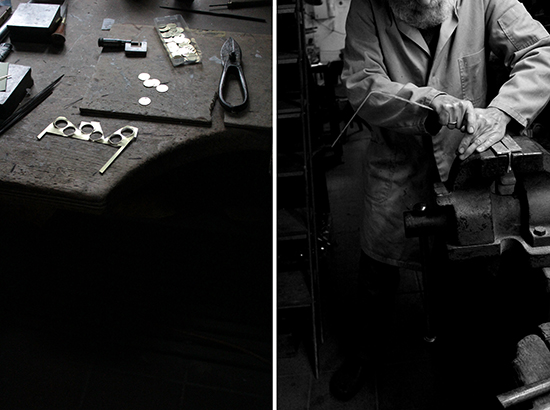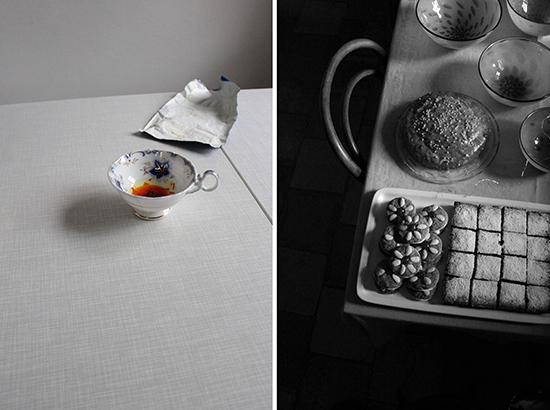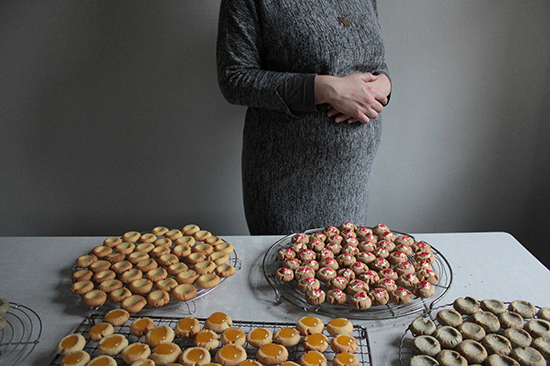 that´s right - i´m putting heavily pregnant women to work!
rolling lots of dough balls and turning them into various kinds of "eyes"
to serve at our Christmas market
i even forgot to offer her a chair and then she couldn´t take any cookies with her
since the jelly wasn´t set
the "bull´s eyes" with poppy seeds where based on a recipe my mum made at least a decade ago
the lemon curd filled ones by a recipe from the latest edition of
SCHROT & KORN
and the spiced ones with white chocolate and sugar sprinkles - i just made them up
all of them were quite hard in the beginning but "aged" beautifully in my grandmother´s cookie tins
i also made a Turkish coffee cake from Margot Henderson´s cook book "You´re All Invited"
which i just had to have after watching her on
MUNCHIES
a while back
but i did not turn out like i hope it would, probably got something wrong
.
also just ordered Claire Ptak´s new book
and i can´t wait to make her chocolate cake with Amarena cherries
which can be found
HERE
, since she has a column at The Guardian now
also:
BUCKWHEAT CREPE
.
want start reading
ELENA FERRANTE´S
books
(a member of our
BOOKCLUB
suggested them, another one
CASSANDRA AT THE WEDDING
and we´re also really into the
OLD FILTH
triology
AND we´re reading Nigel Hinton´s In the Heart of the Valley next in case you want to join)
THE THE BEST WEATHER EFFECTS IN FICTION
.
oh, it looks like i missed out in this year´s christmas edition of Jamie Magazine (my favorite issue)
so in case i´ve got some readers from Great Britain - save me one, please!
.
it´s been
LETTERED PENDANT
madness in our workshop for weeks now
and W constructed the world´s heaviest brass fire wood carrier for my mum
i won´t touch it, it might break my back (again) but she´s in love
so i might post some pictures of the finished thing sometimes
.
and since i probably won´t post here again before the big holidays:
Merry Christmas everyone!