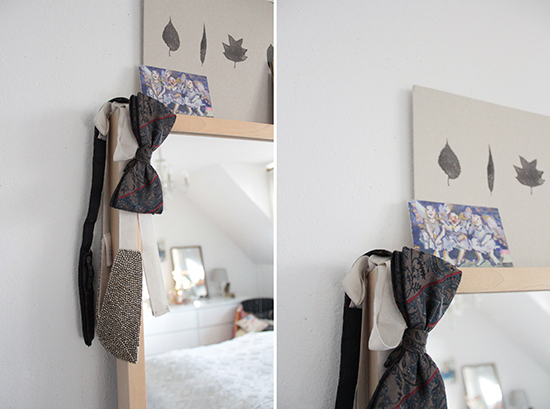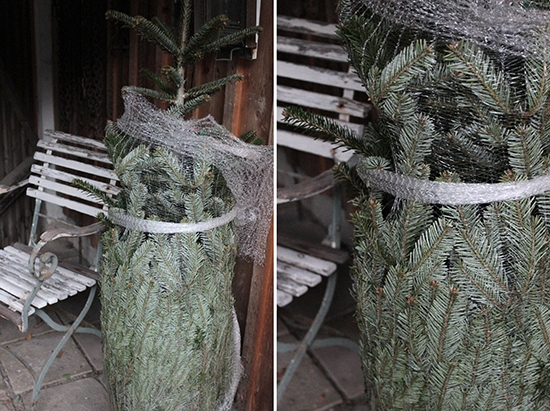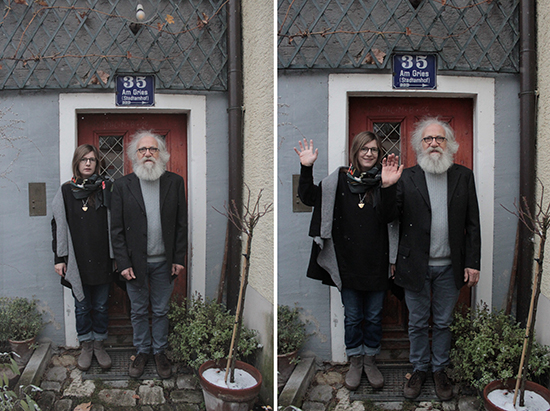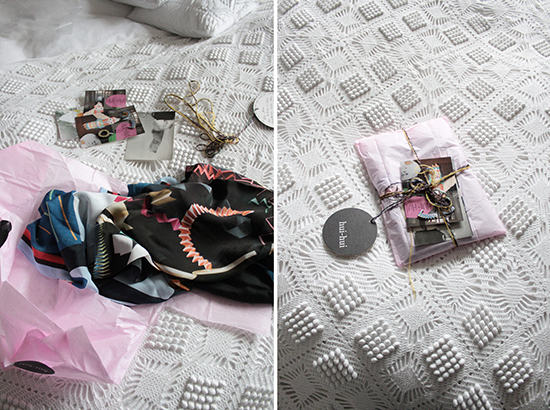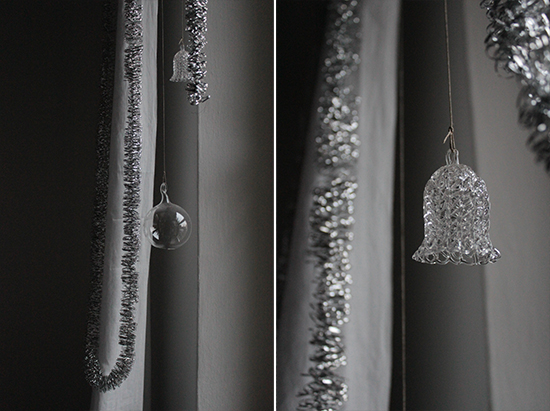 (W and me before the opening of the WSAKE Christmas market - I´m wearing our
SICHEL NECKLACE
and a lovely scarf from a swap with the
HUI HUI
girls on top of a lot of wool)
The time between the years - these are the days I dread the most, even more than the vast dull stretch of time that is January and Febuary (up to this day I´m not able to pronounce those two words correctly in English). In the last years these days have not been kind to our family, almost everyone battling with some kind of sickness or - like me - getting a belated Christmas gift of a whole new mystery disease every two years - can´t wait for this year´s surprise. So many triggers all around in this winter wonder land of wet dirty snow, mud splattered down jackets and panic (and probably epilepsy) inducing fairy lights. The shortest days of Winter now remember me of a
STAY
in a mad hospital where the head of the department tells me that she had taken a look at the pieces on my website and some (not all) of them were quite (a little bit) nice, while I was staring at her yin and yang pendant - the cheapest and most ugly one I had seen so far. I should have left at once, but stayed for six horrible weeks instead.
Despite this December panic I went through with our annual Christmas market and after the first rather quiet hours our show room was filled with the nicest people ever. It turns out we have the kind of "client friends" that come bearing gifts, so many nice faces, known and unknown. Afterwards I felt really sorry I didn´t have more time for each and everyone. And I wished for every day to be like that, filled with a cheery buss and banter. And I´m very thankful for all of those who nudged me on to do it no matter what - you know who you are, kind friends!
My cat has now an eye specialist, an enthusiastic young lady who fell in love with her rare condition and now, after three years of almond shaped eyes due to constant squinting caused by a painful overgrowth, she has clear round eyes again. The magic powers of cortisone! She is the most calm and comfortable when laying on top of the radiator (I think she even curled her brows on that hot grid a while ago) or curled up on a pillow with no one around to disturb her. But when she actually dares to jump on my lap for cuddles she purrs in delight, looking up to me with those brand new huge eyes. I´m just like her - feeling the most at ease with all my troubles when there are no witnesses around, but even better when I dare to surround myself with friends. And that would be what I´m most thankful for this year, to have found such kind people, they are my treasure.
I buy tiny bees wax candles for them this Christmas, glossy and of a wonderful rich yellow colour, but I don´t know what else to give.
A few days ago, we sat at a place filled with a lot of Christmas parties and I spotted two guys I had a tiny (that´s as big as it gets around here) crush on over the last year and I felt so at ease, thinking it couldn´t have been that bad when this had actually happened (and apparently I have a very big heart since these weren´t all the crushes I had). Despite the icy rain outside I felt almost warm and fuzzy, but then again I was wearing my heat tech long johns for extra cosiness.
Here are some other things that made me happy this year (it is super trendy to have these kind of gratitude lists and year-in-review things, so of course I have to do one, too
):
After her
fabulous talk on "Writing Architecture"
, about the delight and need to write and her advice to just start,
I dared to walk up to Jane Rendell thanking her for her words and telling her how much they meant to me and she wished me good luck with my own writing. Oh my! This talk was part of a series
on feminist ideas in architecture and design,
organized by a local school for architecture, open for everyone and for free - so this way I also got to listen to
Peg Raws.
I was so amazed by the kindness of those two smart lovely women, it felt like a whole new world opening in my mind, a world filled with fierce, brilliant and encouraging ladies. And it looked like my English has quite improved since my school days since I had no trouble following even philosophical talks.
I haven´t seen my sisters a lot this year, actually only on a handful of days. With E I rode into town one Summer evening, not being able to decide if we should spend some money on the entrance fee of a party where we knew nobody, or not. We ended up eating ice cream and sitting around a fountain where everyone meets up on those kind of nights - the fountain water smelled horribly foul and we wished for a live
TINDER
version as a way to be able to talk to all those pretty people out and about.
Went to the opening party of a new design studio in my dreary neighborhood that made me look differently at my surroundings, it felt almost metropolitan.
Reading "A little Life" and being so touched by the description of friendship and acceptance of physical and mental problems of a loved one.
I was also quite taken by the amazing Australian series "Please like me" and it looks like everyone else is too - so I do encourage you to watch it on Netflix over the holidays in case you haven´t so far.
Talks and walks with lovely friends, all around our old town and its parks, along the river and back again.
Having my heart broken a bit - didn´t know I had it in me and it sucked, but still. This didn´t change my preference of books on single women to love stories, so maybe that is why I was so taken with "The Essex Serpent". My first Anita Brookner
NOVEL
however disturbed me a bit, she described her heroine in such a cruel way. Also I don´t think I want to become a witch just now, like in
LOLLY WILLOWS
, not ready for the countryside either.
Clients, very very sweet clients. Sometimes I´m really excited before a meeting, but then it always works out in the best way.
And I´m thankful for all those times things weren´t that bad.
Since the beginning of the colder season said cat stays mostly in - day and night - which is a new thing for her, being inside for a stray over longer stretches of time apparently takes years to get used to. I´m rather pleased with that development - not that many cat fights and injuries, also she gets a bit chubby and her fur glistens since she doesn´t take as many sand baths. Already quite a
while ago
I have started to drag home as many dry provisions as possible for the upcoming holidays when my sisters will be staying over and we might want to hibernate just like my pet and not busy ourselves with shopping for groceries and such. Fresh produce will of course be acquired at the farmers market this Saturday, lots of leafy green things and krauts and these are some things I would like to try:
a focaccia with scallions and cranberries from Nigel Slater´s Christmas cook book
On the reading and watching front we´re all set - the books in this house should last a few life times let alone Christmas´ days and then there is Netflix of course. Sadly I already watched all of "Godless", which I have been recommending to everyone, including W since it features a sheriff in desperate need of glasses and he is still traumatized by dressing up as a cowboy for a childhood carnival and leaving the party after everyone was making fun of him because there is no such thing as a cowboy wearing glasses. Also I actually wanted to give that bow tie I found at a flea market (pictured above) to my sisters boyfriend (he also painted those tiny purple angels behind it), but now I think I might need it in case I want to move to La Belle. Also
I´m currently in the midst of a brick of a book containing all of Nancy Mitford´s novels.
Tell me: what are you going to do, read, watch and cook during the holidays?